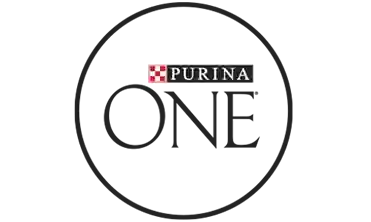 An Experiential Tour With Purina ONE.
An immersive, data and technology-led experience designed to bring the fun to feline food shoppers throughout the UK.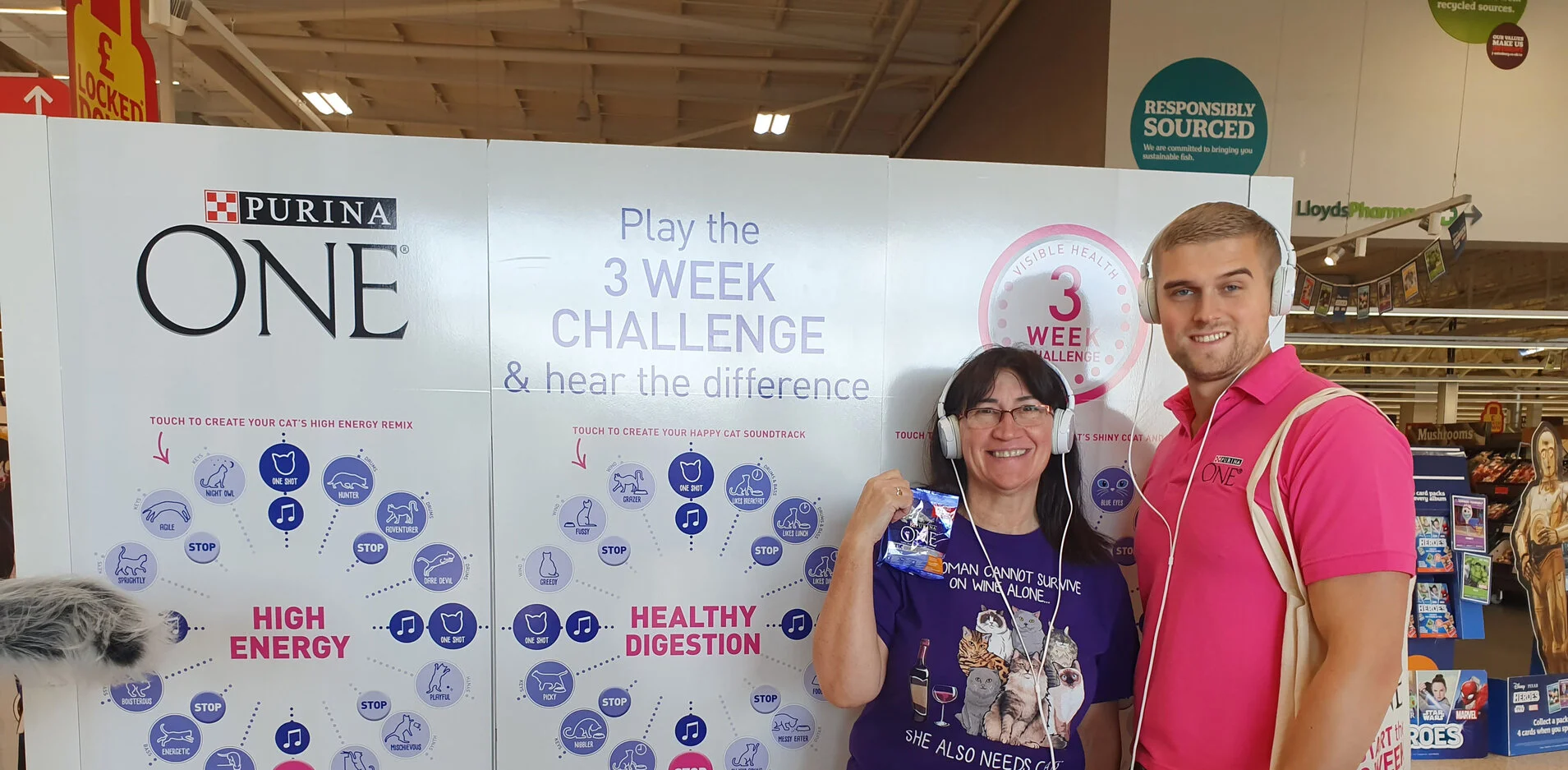 Esteemed feline food brand, Purina ONE looked to Hyphen to create a unique technology-led experience for cat loving Sainsbury's shoppers across the UK.
Here we were challenged with delivering a memorable, engaging and educational experience which would encourage customers to both purchase and recommend Purina ONE products, while increasing brand awareness.
The experience needed to be designed around the brand's Purina ONE 3 Week Challenge campaign, which guarantees consumers that they'll see a visibly healthy difference in their feline friends within three weeks, or they'll get their money back.
80%
of stores saw an uplift in spend during the activation.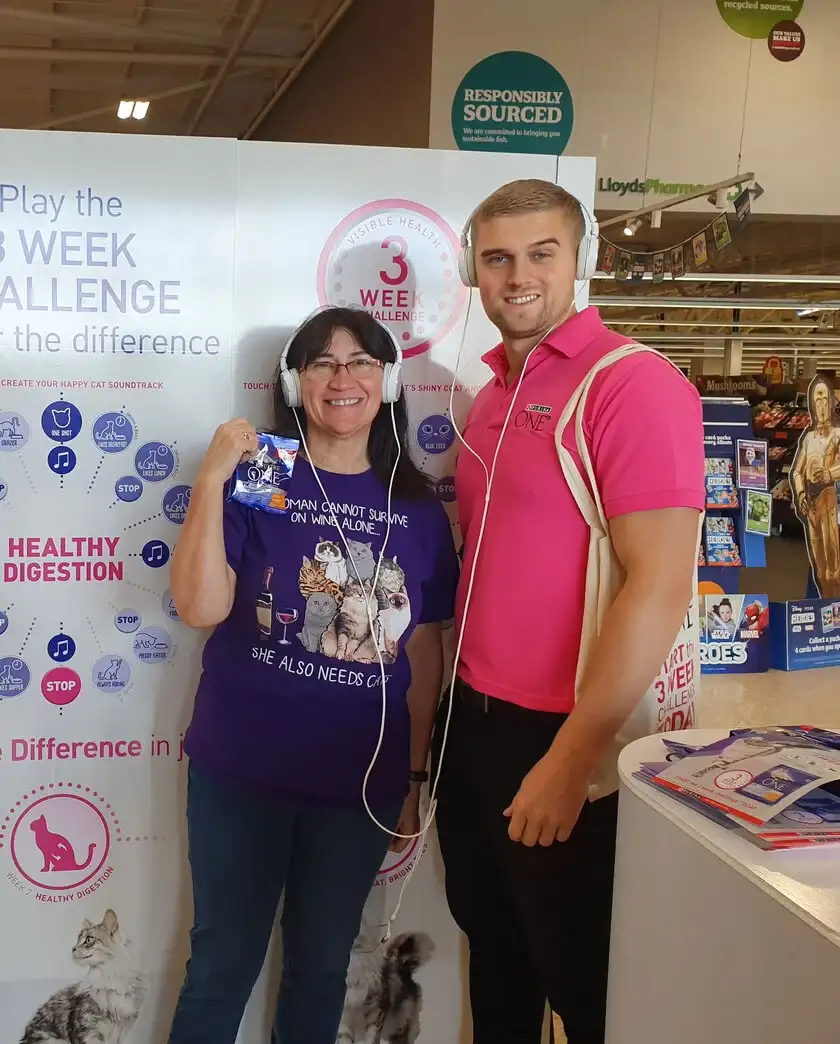 The Activation
Working closely with our internal insights team, we developed an experiential tour which carefully targeted those Sainsbury's stores that were over indexed on cat food sales, yet under indexed on Purina ONE sales.
Using pioneering touch technology which had never been used in the UK before, we placed Purina ONE stands in select stores throughout the UK, and invited shoppers to learn more about their cat's emotions through sight and sound.
Following a successful tour in 2019, Purina ONE continued the campaign with Hyphen in early 2020, visiting another 15 Sainsbury's stores.
5,810
customer engagements.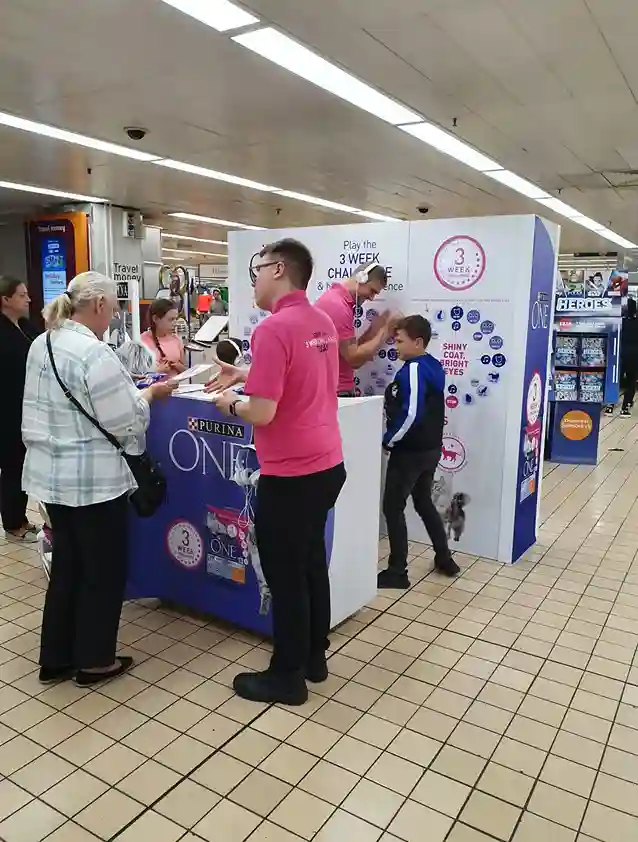 The Experience
The activation was centred around a modular stand consisting of an interactive wall, interactive counter, and bespoke free standing display unit (FSDU). When pressed, the clever touch technology – created by our partner Novalia – played different cat noises, beats, vocals and strings. This enabled shoppers to 'create a soundtrack' that changed to represent each week of Purina ONE's 3 Week Challenge.
Each panel across the wall educated shoppers about all of the visible changes they can expect to see in their cat when they feed them Purina ONE, including healthier digestion, a shiny coat and bright eyes, and a greater appetite.
The interactive countertop tested shoppers' cat knowledge in a quiz, asking them to answer a set of multiple choice questions. When they got a question right they heard a happy meow, and when their response was incorrect they heard a not so happy cat!
For those converted and ready to buy, the bespoke FSDU was specially designed so they could easily grab a bag and pop the Purina ONE products straight into their shopping basket. The FSDU even featured an electronic cat tail, truly bringing the Purina ONE experience to life for cat lovers.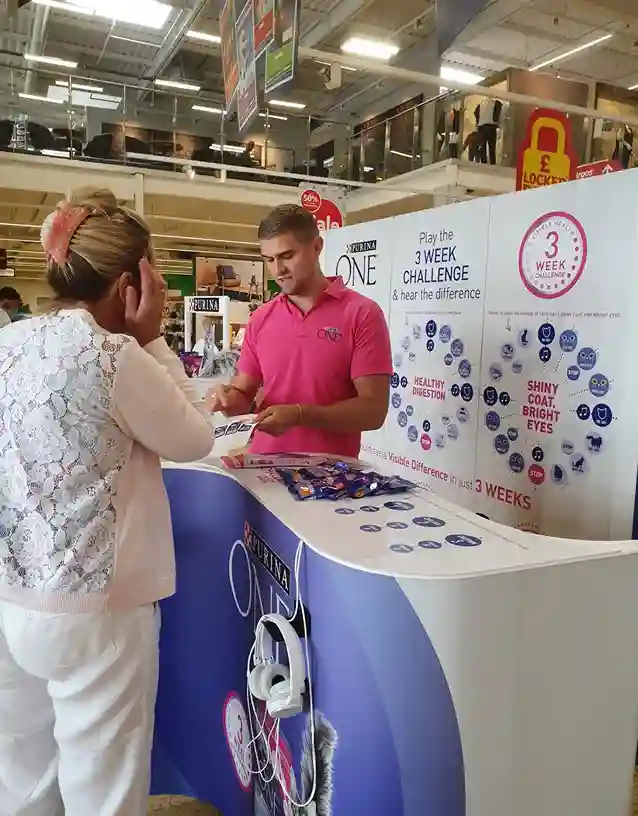 The Results
The two experiences combined enabled our team to educate and inform shoppers about Purina ONE while communicating complex scientific details in a fun, memorable and easily digestible way.
We recorded 5,810 customer engagements across the 4,500 miles travelled for this campaign. Our cutting edge, proprietary Brand Affinity Measurement (BAM) software noted a 12:1 ROI, a +18 Net Promoter Score on exit, and a 76% increase in monthly share of wallet post activity.*
Additionally, 80% of stores saw an uplift in spend on Purina ONE during the activation, which we'd call pretty pawfect.
*For more information on BAM, please get in touch or download our guide here.
76%
increase in monthly share of wallet post activity.
"Hyphen activated an in-store experience to educate cat-loving shoppers about our Nestle Purina ONE '3 Week Challenge'. The industry's first 'hands on' experience tapped into shoppers' sound, sight and touch senses, and was fun and memorable! It certainly got customers talking: 'interactive', 'informative' and 'entertaining' were just some of the words used to describe their experience."
Alistair Burgess Shopper Marketing Lead, Nestle Purina PetCare
See more of our successes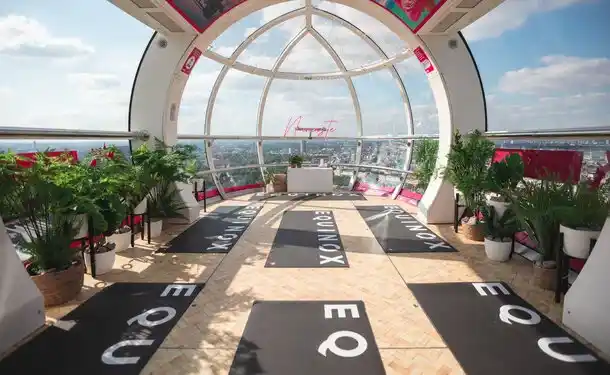 Transforming a lastminute.com London Eye pod into a unique rotating yoga studio experience, featuring classes from global luxury lifestyle leader, Equinox.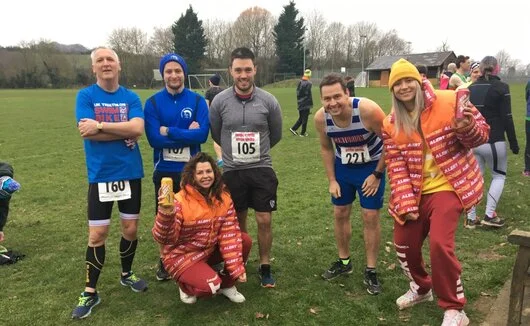 A theatrical, guerilla-style experiential tour of the UK where Lucozade met wholesalers and consumers where they were.